TEAM RAC Professional Development
Please note that, with immediate effect, the RAC Membership fee for Students has been reduced to $75 plus tax. All Students currently registered for a future course who have paid the $100 plus tax membership fee, will receive an additional 3 months of membership and will be notified of this by mail within the next two weeks.
PAGE MENU
TEAM RAC Professional Development Office
Please contact our TEAM RAC Education office for information on practitioner courses and teacher training.
Liane Bissonnette,
Professional Development Manager
304 - 414 Graham Avenue
Winnipeg, MB R3C 0L8
Toll free: 1.877.722.3338
Phone 204.477.4909
Fax: 204.477.4955
Email

[email protected]
RAC offers a variety of professional certification materials and training.


---
IMPORTANT INFORMATION FOR PROSPECTIVE STUDENTS

Click the link below to go to the Students' page.

Click here


Course Development
Each RAC reflexology training program goes through a detailed development plan before it is implemented. This ensures high standards and an unparalleled degree of professionalism. Each training course is based on the latest research findings and information from national and international sources.


Course Details
The links below will take you to documents giving dteailed information about the courses, the benefits and the payment details.

If, after reading them, you would like any further information or wish to register for a course, please contact our Professional Development Manager, Liane Bissonnette at

[email protected]



Telephone: 204 477 4909

Right click to download each document.
EDUCATIONAL COURSES
Click the link below to be taken to the page containing details of teachers and courses. This page also contains information and links regarding our accredited courses.
Click here
You Want to Become a Teacher?
RAC teachers are highly qualified; they have to comply with a standardized selection criterion and complete a comprehensive training program before they are accepted as teachers. The Association insists on a high degree of professionalism, skill and knowledge by their teachers. Each teacher must be updated on a regular basis and renew their teaching contract annually. There are RAC reflexology teachers in almost every province, in the US, and even in South-East Asia and the Caribbean. The teacher-training course has been completely revised, expanded and updated. To deal with the increased demand for training, our teacher trainers have been busy training additional teachers.

All you need to know to apply to become a teacher or to upgrade to Hand and Ear Instructor can be found on the documents below. just click on the one you want and it will download for you.



If you are interested in becoming a teacher in your area please complete the necessary documentation and return it to TEAM RAC Professional Development at RAC Head Office.

If you have further questions about becoming a teacher or the application process please call Liane Bissonnette at 1 877 722 3338 or by email at

[email protected]




Canadian Agricultural Skills Service (CASS)


RAC is registered with the Saskatchewan CASS program as a Learning Activity Provider. Eligible students may be sponsored to take the Foot, Ear or Hand Certfication Courses.

Our courses are registered with the Saskatchewan CASS Program. Contact us to find out how you may be eligibile to receive training benefits.


RAC
InterBoutique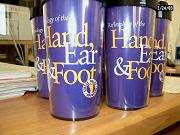 NEW!!!!

RAC Mug $7.50 plus tax

Pre order now for collection at the Montreal Conference and save postage costs


10% discount for RCRT registered members!!!